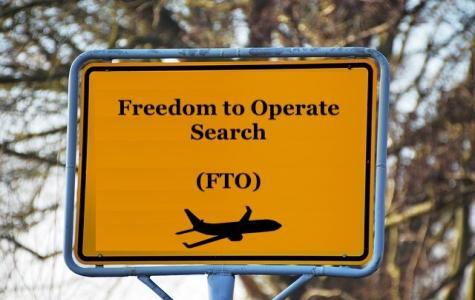 Freedom to Operate (FTO) is the freedom to commercialize a new product/process without infringing on others patent rights. Commercialization of infringing products may lead to penalties, lawsuits, and royalty payments.
A Freedom to Operate search finds out in advance whether your product will infringe some one's patent or not. FTO search report can be used as a base for devising a strategy for proceedings related to product launch.
What is FTO Search:
These are sometimes also referred to as clearance searches. These are generally conducted in cases where a release of the product is aimed for. Such a search is conducted as a part of IP due diligence to avoid any potential infringement and helps a company to understand if the proposed product or invention doesn't violate any active patent. If there are probable infringements, then this search enables the companies to take appropriate business actions. These searches also divulge details about the patent pending applications, which if eventually are granted patent rights, might be potentially infringed by the product in question.
So basically FTO search is conducted to:
1. Analyze the requirement for their product.
2. Understand market competition
3. Device marketing strategies
4. Device pricing strategies
Relevant Aspects of a Clearance Search:
1. FTO search is restricted to only active patents.
2. Non-patent literature, scientific journals etc are considered as irrelevant
3. FTO search is mostly restricted to claims
4. Jurisdiction of interest is also considered
5. Time period of about 20 years from the date of search is taken into account.
6. Every element of the product should be assessed; with respect to the available patent reference (separately and combined).
7. FTO search results provide a thorough conclusion about granted patents only. That is the reason unpublished applications will not get noticed. Therefore, it is usually advised to conduct such search every 6 months.
Advantages:
1.  FTO search is mostly recommended to be carried out at early stages of product development, so that huge development costs on developing infringing products and other infringement charges are saved.
2. Such a search will reveal expired patents. There may be many useful technologies which can be used from these expired patents.
3. Another option of purchasing relevant patents may be explored.
4. Obtaining a license from the patent holder for a specific duration on payment can be considered.
5. Redesigning the product to avoid infringement can be done.
Are you looking to launch your new product and seeking to get the FTO opinion? please contact Intepat and also learn here how we can help you to safeguard your interest.
You may also interest to read some of the important articles mentioned below herein:
How to Conduct Patent Search in India?
Explained! Why Conduct Patent Searches?
Free Patent Search – Databases
The 7 step strategy in US Patent Search
Steps to Conduct Google Patents Search