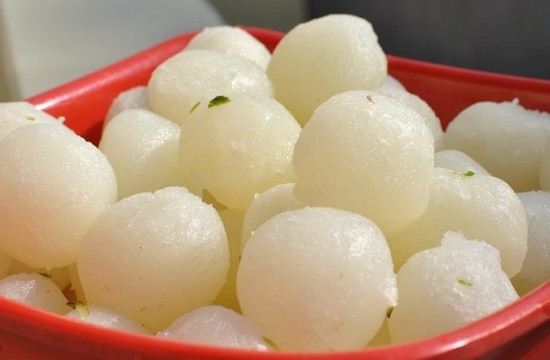 Recently, the states of West Bengal and Odisha have been embroiled in a legal battle over the origin of Rasgullas. Absurd as it may sound, it has now become the bone of contention between both the states with both of them attempting to secure a GI tag for Rasgulla. The Odiyas claim that the Rasgulla originates from the Jagannath Temple in Puri wherein it has been a part of the temple rituals since the 12th century and continues to remain so. On the other hand, the Bengalis claim that it was Nobin Chandra Das who invented the Rasgulla which was later popularised by the sweetmeat chain KC Das launched by his son.
With varying versions of a blurred history, the 'origin of the Rasgulla' debate is a never-ending one. However, what requires attention here is the attempt to secure a GI tag for food stuff as ubiquitous as Rasgulla.
The protection of geographical indications is regulated by the Geographical Indications of Goods (Registration and Protection) Act 1999. Under this Act, six foodstuffs- Dharwad Peda, Tirupati Laddoo, Hyderabad Haleem, Prosciutto di Parma, Joynagar Moa and Ratlami Sev – have been granted the GI tag. However, on a reading of the bare text, most of these foodstuff barely qualify for protection under the GI Act.
Now the Act defines a geographical indication as any agricultural, natural or manufactured goods originating in the territory or region of a country wherein a given quality, reputation or other characteristics of the good is attributable to its geographical origin.
S9(f) prohibits the registration of geographical indications which are determined to be generic names or indications of goods and are, therefore, not or ceased to be protected in their country of origin, or which have fallen into disuse in that country. Explanation 1 of the section states that a generic name or indication is one which, though relates to the region where the good was originally produced has now lost its original meaning and has become the common name for such goods and serves as an indication.
Now testing the claim for a GI tag for the Rasgulla against S 2(e) and S 9(f) of the Geographical Indications Act, it immediately disqualifies Rasgullas from claiming a GI tag. The phrase 'rasgulla' has obtained a generic meaning over the years and indicates a white, spongy sweet soaked in sugar syrup and is not influenced by the fact that it comes from West Bengal or Odisha. Moreover with rasgullas prepared and sold not only across the country but also in Indian restaurants around the world, the grant of a GI tag with the result all such productions amounting to infringement which is not at all practicable.
A similar situation is faced with other foodstuffs such as Dharwad Pedha where despite having a GI tag, production is so widespread and ubiquitous that any legal action would be redundant.
Complete abandonment of GI protection for foodstuff is not advisable for there are certain foods which require such protection. Therefore a viable solution is that the nature of the food should be considered before granting a GI tag. This principle is already being followed in various countries. For instance, consider the example of Roquefort cheese. Owing to its unique method of preparation and special, rare ingredients, only cheese ripened in the Combalou caves of Roquefort-surSoulzon can bear the name Roquefort cheese. Likewise, adherence to a similar principle would prove beneficial to India.
Wait, some of interesting GI and food-related post are mentioned below in, Don't miss it!