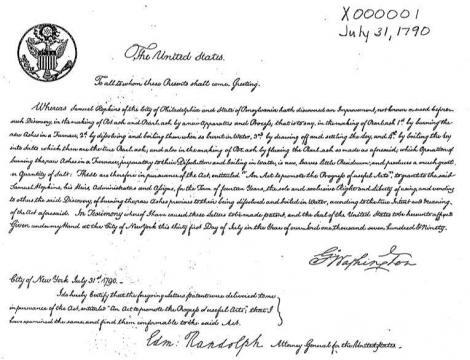 USPTO
The United States Patent and Trademark Office is the federal agency for granting US patents and registering trademarks. By doing this the USPTO fulfills the mandate of Article 1, Section 8, Clause 8 of the US constitution that the legislative branch would "promote the progress of Science and useful arts, by securing for limited times to Authors and Inventors, the exclusive right to their respective writings and discoveries."
The USPTO is at the cutting edge of the nation's technological progress and achievement. The USPTO advises the President of the US, the Secretary of Commerce and the US Govt. agencies intellectual property (IP) policy, protection and enforcement: and promotes the stronger and more effective IP protection around the world. The USPTO furthers effective IP protection for US innovators and entrepreneurs worldwide.
The USPTO is unique among federal agencies because it operates solely on fee collected from its users. The USPTO is based in Alexandria, Virginia; after a move from the crystal city area of neighboring Arlington, Virginia.
The USPTO co-operates with the European Patent Office (EPO) and the Japan Patent Office (JPO) as one of the trilateral patent offices. The USPTO is also a receiving office, an international searching authority and an International Preliminary Examination Authority for International patent applications filed in accordance with the patent co-operation treaty.
Interesting facts about the USPTO
On July 31st, 1790 the first US patent was issued to Samuel Hopkins for an improvement "in the making of Pot Ash and Pearl ash by new apparatus and process." This patent was signed by then-president George Washington.
The X- patents (the first 10,280 issued between 1790 and 1836) were destroyed by fire; fewer than 3000 of those have been recovered and re-issued with numbers that include an "X". The X generally appears at the end of the numbers –handwritten on full-page patent images; however, in patent collections and for search purposes, the X is considered to be the patent type – analogous to the "D" of the design patents- and appears at the beginning of the number. The X distinguishes the patents from those issued after the fire, which began again with patent number 1.
On June 19, 2018, the 10,000,000th US Patent was issued to Joseph Marron for the invention of a "Coherent LADAR [System] Using Intra pixel Quadrature Detection to improve laser detection and ranging (LADAR). It was signed by the US President Donald Trump during a special ceremony at the oval office.
In 1955, Jonas Salk chose not to patent his polio vaccine for the sake of humanity. If he would have patented it he would have earned $7 billion.
The discoverers o Insulin chose not to patent their discovery so that inexpensive treatment of diabetes would spread worldwide.
In 1945, a radar engineer Percy Spencer while working at Ratheon stepped in front of a magnetron, a device that powers radar. He noticed a chocolate bar in his pocket had melted. Later that year he filed a patent for the first microwave oven.
Amazon holds a patent on 1-click buying and Apple pays them licensing fees.
You may also interested to read some of the relevant post mentioned below:
10 Millionth US Patent Issued
The 7 Step Strategy in US Patent Search
Patent Claims: IPO, EPO and USPTO
Post-Dating Provisional Patent Application: India, US and Europe
Non-Obviousness: Comparison between India, Europe and the US
Guidelines to Search in USPTO Public PAIR