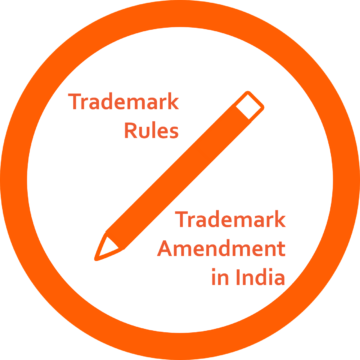 Amendment or correction of the trademark application may be effected either before or after the Registrar has accepted the application. The statutory provision for amendment or correction of a trademark application is Section 22 of the Trademarks Act, 1999 and Rule 41 of the Trademark Rules, 2002.
Trademark Rules & Procedure:
According to Section 22 of the Trademarks Act, the Registrar may permit the correction of an error to the application or an amendment to the application. This correction may be before or after the application has been accepted for registration.
Rule 41 of the Trademark Rules states the procedure for amending or correcting an application. It states that before the registration of a mark an application can be amended or corrected by filing a prescribed form along with the prescribed fee.
The proviso to Rule 41 of Trademark Rules states that any amendment that;
Substantially alters the original trademark, or;
Substitutes a new specification of goods and services, not included in the initial application, will not be allowed.
The Registrar decides whether to allow an amendment or correction in an application on a case to case basis.
Sometimes, after the examination of an application, the examiner may instruct an amendment or correction to the application. For example, if the classification of the goods/services is not correct, the examiner will instruct you to file an appropriate form to correct the classification.
Initial Position:
Previously, in an order dated June 8, 2012 the CGPDTM has issued an order which severely restricted the amendments that can be made to a trademark application. According to this order substantial alteration of the following was not allowed:
-The trademark
-Proprietor details
-Specification of goods/services (except deletion of some existing items)
-Statement as to the use of the mark (date of usage of the mark)
Current Position:
However, on 09.10.2014 the High Court of Delhi delivered a Judgment that declared the restriction on Amendment as illegal. The Judgment laid down that the powers of the Registrar under Section 22 of the Trademarks Act was quasi-judicial.
Therefore, the current position, as decided by the High Court of Delhi is that the Registrar must, on a case by case basis, decide if the Amendment claimed is bonafide (in good faith) and thus can be allowed.
We, at Intepat, assist our client in filing an application for trademark registration with in-house SOP system to avoid clerical error. And also, we help our client to file a necessary amendment in the application as and when needed.
You may continue to read some of the interesting articles:
Assignment of Trademarks in India
Trademark Examination And Response
Fixation of Trademark Show Cause Hearing in India
The Intellectual Property Appellate Board: Power & Constitution