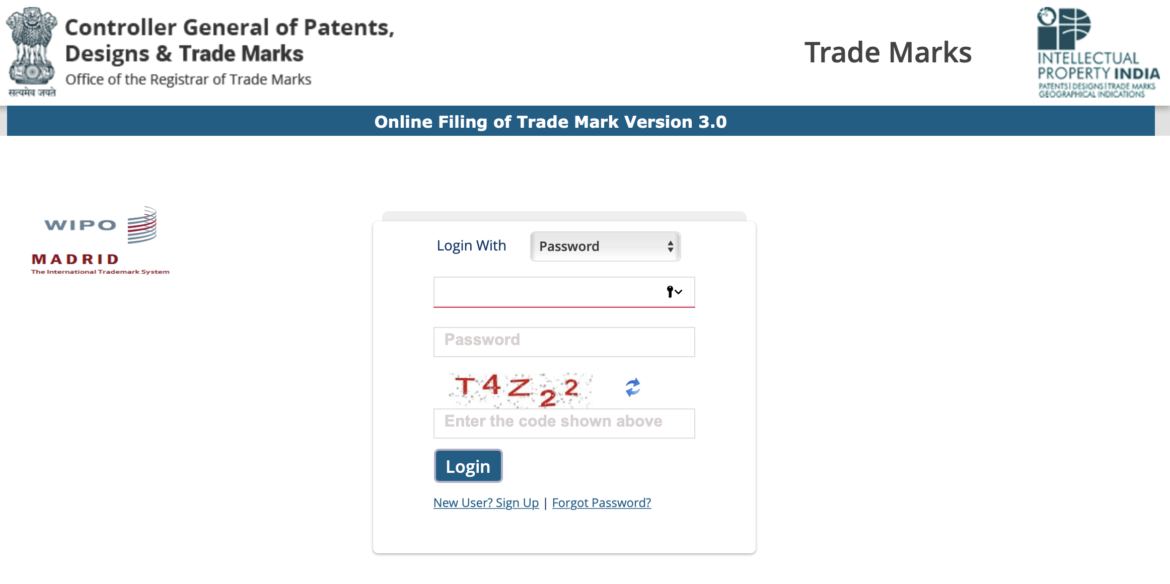 Online Trademark Registration
The trademark registration process can be done in two ways: physical filing or e-filing (Online Trademark Registration India).  E-filing is useful and arguably a more sensible method in the contemporaneous times.
Below are some simplified steps for E-filing – Online Trademark Registration in India:
The first step is to register on the Trademark Office Portal. Post registration the Applicant can login using the User ID or the digital signature. (Please note, for e-filing of trademarks you require a valid class 3 digital signature certificate)
The Applicant can file a trademark application using either the new applications link for domestic applications or the IAOI (International Applications Originating from India) for Madrid Trademark.
Either link will lead you to the page where you are required to fill in all the details.
You need to click save button after filling the details to generate a temporary application number.
The next step is to sign the application using the digital signature.
Make the trademark fee using online. A payment acknowledgment is generated immediately.
The permanent application number is generated immediately after the realization of the payment.
Online Trademark Registration in India: Benefits
Apart from being user-friendly e-filing of trademark applications ensure the immediate generation of a Trademark application number. Once this number has been generated, a person can begin to use the suffix TM after the trademark, establishing his ownership over the trademark.
E-filing also gives the possibility of online verification of the application in order to ensure error-free filing. Details can be previewed before finally submitting it.
Immediate generation of the filing date as well as immediate acknowledgment of the fee.
The trademark status of the application can be viewed online.
Therefore, the omnipresence of internet confers numerous benefits on the process of online trademark registration in India. The whole process of getting a trademark registered can take within a year. E-filing quickens the process at least with regard to the filing of the application and this goes a long way in reducing the overall time taken for the registration.
To learn more, how Intepat can help in online trademark registration in India, please visit our online trademark registration services.
Further, You may interest to read on the following important posts:
Trademark Registration Process in India
Trademark Registration Cost in India
Learn to Conduct Trademark Public Search
Trademark Filing: Can You Do It Yourself?
Understand Trademark Application Status in India
Download Trademark Registration Certificate