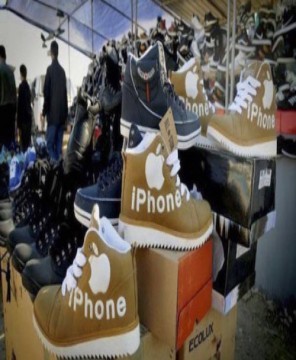 This is not an uncommon sight in China. China is one of the leading producers of counterfeit products and defaulters of intellectual property in the world. In 2005, the United States Government placed China on its priority watch list of countries failing to protect IP rights. Despite being a signatory to several international treaties for the protection of intellectual property, China does not give two hoots when it comes down to infringement. It has once again proved its mettle for infringement by embroiling itself in another case with none other than Apple Inc. Apple Inc has just lost a legal with a local Chinese firm over the use of the trademark 'iPhone"!
To put things in perspective, Apple Inc. is a renowned company engaged in manufacturing of cutting-edge technology, one of which happens to be the iPhone. Now, Apple entered Chinese markets and filed for the registration of its trademarks in China in the year 2002. However, procedural delays resulted in the trademarks being registered only in 2012.
In 2007, when the registration of Apple's trademarks was still pending, Xintong Tiandi, a local manufacturer began using the mark 'iPhone' on leather products manufactured by his firm. At first, Apple was unaware of this. This was primarily because a large number of companies and manufacturing industries in China causes many such infringements to go undetected. However, when it was informed about such infringement in 2012, it filed a suit against Xintong Tiandi and his firm for infringement of the trademark. You can learn five ways to stop IP infringement in China here.
The matter was brought in before the Beijing Municipal High People's Court wherein the judge, ironically held that Apple Inc has no substantial proof to show that it was a well-known trademark in China before 2009. As a consequence, they cannot claim for infringement of trademark and Xintong Tiandi cannot be desisted from manufacturing leather goods with the mark 'iPhone'.
This decision comes in the wake of the recent quarterly earnings report of Apple which showed a massive 13% drop in the sales of iPhones. Though the decision will not majorly impact its market share, it is definitely a blow to the reputation and goodwill it has earned over the years. What happens to Apple and the iPhone battle may not be known, but this case definitely forms a cue to other companies, both established and upcoming, to seer trademark protection under the Madrid Protocol. Failure of Apple to register its mark on time resulted in such a fiasco, costing them heavily. A sure shot way for other companies to avoid this would definitely be registered under the Madrid Protocol.
You may also interested to read some of the below relevant articles:
Trademark Infringement in India – Direct and Indirect
Battling the Dragon once again: Facebook Emerges Victorious!
The bruising battle over the Orchid Trademark
Bookmyshow Vs Bookmysports – Trademark Case Study
The Trademark of Mother Teresa's Saree